1894 and 1897 Women's Suffrage Petitions now available online to all, thanks to QFHS volunteers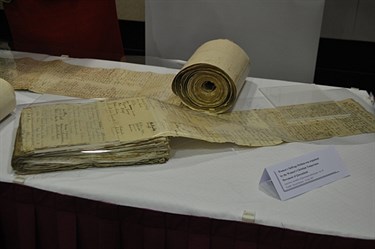 In 1894 the Women's Equal Franchise Association (WEFA) initiated a double petition – one for women to sign and the other for men – which played a key role in galvanising support for the women's suffrage movement across Queensland. A second group of women through the Woman's Christian Temperance Union canvassed support again in 1897.
Through a project organised in a partnership between the late Dr John McCulloch, Dr Deborah Jordan and the Queensland Parliament, and with the contribution of the Queensland Family History Society, these petitions have been digitally transcribed and developed into a database that is available to the public.
A wonderful resource for girls, women, genealogists, and historians both in Queensland and across the globe.
To view the signatories to the Women's Suffrage Petitions go here
For more information on QFHS involvement in the project from start to finish go
here
Congratulations to the many people involved in making this happen.
---
Seminar - final for 2014
Inmates: asylums, prisons and hospitals
with Shauna Hicks and Pauleen Cass 
4 October from 9.00 am to 12.30 pm 
Shauna Hicks is an archivist, librarian, and family historian with over thirty-five years experience.
Shauna's talks look at resources available for researching asylums and prisons in Australia (and does not include convicts). She will outline the type of information you might find and how useful it is in finding family who simply disappeared.
Pauleen Cass is a dedicated family historian with nearly thirty years' experience tracing her families, both online and offline.
Pauleen's talk will show how hospital records can reveal new and interesting information about your ancestors, sometimes about their earliest years in the colonies, but we are constrained by those records that survive. This talk will show you where you might find the records, especially for those with mining ancestors.
Pauleen is a Queenslander who lives in Darwin and has not spoken at previous QFHS seminars. I am sure she will have lots of new resources for you to investigate.
Latest news!
Congratulations to Shauna being named as 2014 Gold Medallist Rockstar Genealogist for Australia and New Zealand in Canada's Anglo-Celtic Connections annual competition. Pauleen was named in fifth place. Well done!
What a wonderful opportunity to hear both speakers at the same event. 
See more of our news on our News Page